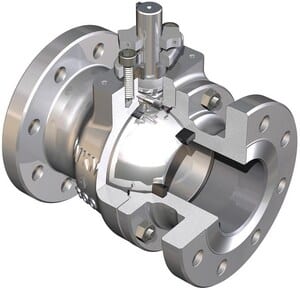 The Cameron WKM Model 310F floating ball valve satisfies a wide range of applications. Engineered for heavy-duty, reduced-maintenance performance, the WKM 310F ball valve is commonly selected for a variety of applications in a wide range of industries. This includes numerous applications in the chemical and petrochemical industry.
Specifications
​
Standard Features
Size range: 1″ to 4″ x 3″ (25 mm to 100 mm x 75 mm)
ASME Class: 150 to 600
Designed and tested to B16.34
Adjustable graphite stem packing
Carbon steel and stainless steel trims
Fire-tested to API 607
Deep-pocketed recessed seat
NACE MR0175/ISO
High- and Low-Temperature Service:
Special high-temperature trims are available for DynaSeal 310 ball valves that provide for service up to 600º F (316º C). This trim is good for steam service, hot oil, heat transfer fluids, boiler feed water, and similar applications. Low-temperature service standard trims accommodate temperatures up to -50º F (-29º C). For temperatures below -50º F (-46º C), contact us.